Last updated on 8/5/20 at 2:00 p.m.
April 23: Added info about requesting a loading zone for essential businesses
April 21: New info about Slow Streets program
Muni Service
Face coverings are now required for people in San Francisco when waiting for or riding transit, taking a taxi or shuttle, performing essential work and in public facilities per a new public health order. Face coverings should:
Securely cover the nose and mouth.
Can be a homemade mask or bandanna, scarf or similar item. Please refrain from buying hospital-grade masks so those are available for health care workers and first responders.
Cloth face coverings should be cleaned frequently with soap and water.
Wash your hands before and after putting on and taking off a face covering.
Remember that wearing a face covering is not a substitute for staying at home, staying six feet apart and frequent handwashing.
Please do not ride Muni if you are feeling ill, except as necessary to seek medical care after consulting with your medical provider. We're also asking customers to only take Muni for essential trips that can't be made by walking, biking or other modes of transportation.
Backdoor boarding is required on all vehicles, except for passengers in wheelchairs or with other accessibility needs. If you need assistance, please request to board from the front door and an operator will help you access the ramp or the kneeler.
Muni Core Service Plan
In order to prioritize limited resources, Muni service has been reduced to focus on our most-used lines. This approach allows Muni to continue to serve San Francisco's medical facilities and focuses on equity to ensure service for our customers most reliant on transit. The core routes that remain in service, with some modifications include:
L Taraval Bus, M Ocean View Bus (shortened), N Judah Bus, T Third Bus, 1 California, 5 Fulton, 8 Bayshore (modified route), 9 San Bruno, 12 Folsom (shortened), 14 Mission, 14R Mission Rapid, 19 Polk, 22 Fillmore, 24 Divisadero, 25 Treasure Island, 28 19th Avenue, 29 Sunset, 38 Geary, 38R Geary Rapid, 44 O'Shaughnessy (shortened), 49 Van Ness/Mission (longer route), 54 Felton (shortened), 714 BART Early Bird Shuttle
UPDATE: Starting Monday, May 4, the M Ocean View Bus has resumed service between Balboa Park and West Portal.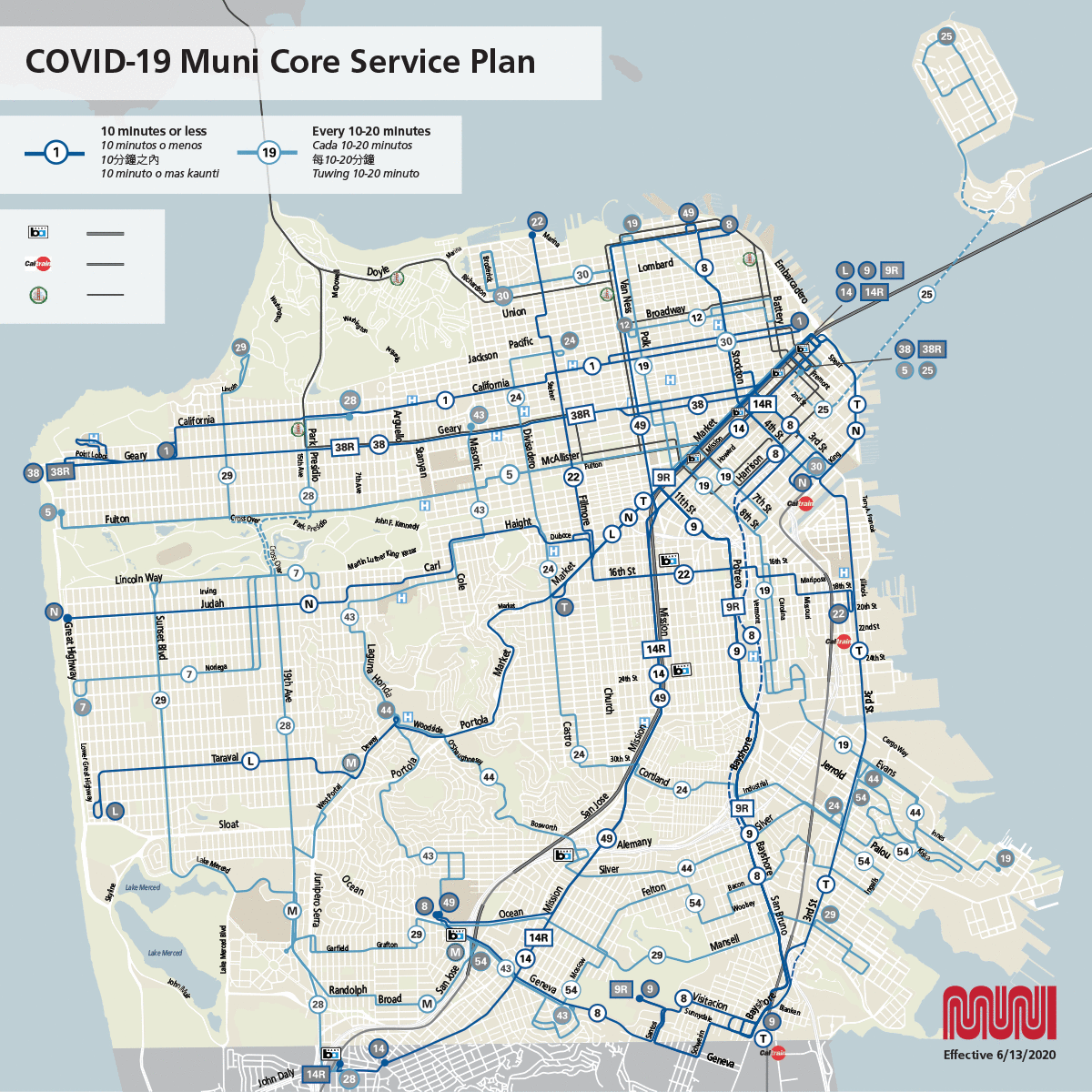 Map of Muni Core Service. Also included: Golden Gate Transit, BART and CalTrain services in San Francisco.
Muni Metro Service
Metro subway stations are closed, except for downtown stations remain open for BART service during their operating hours.
Muni Owl Service
Late-night Owl service will begin at a new, earlier time starting every night at 10:00 p.m. instead of 1:00 a.m. All regular Owl routes will operate with the exception of the 5 Fulton and 48 Quintara/24th Street, which will be temporarily discontinued. The following lines will run 24 hours a day or provide special Owl Service:
L Owl*, N Owl*, 14 Mission, 22 Fillmore, 24 Divisadero*, 25 Treasure Island, 38 Geary, 44 O'Shaughnessy*, 90 San Bruno Owl, 91 3rd Street/19th Avenue Owl (*Owl route is different than daytime route)
See the COVID-19 Muni Owl Service Plan map for route details
Golden Gate Transit: Additional Bus Service
Golden Gate Transit has begun picking up Muni passengers at all Golden Gate Transit bus stops in San Francisco. Stops that were drop-off only or pick-up only will temporarily support local travel for both drop-offs and pick-ups.
Financial District service: Routes operate weekdays between the Golden Gate Bridge and the Financial District via Lombard Street, Fisherman's Wharf and Levi's Plaza.
Civic Center service: Routes operate daily between the Golden Gate Bridge and the Salesforce Transit Center via Lombard Street (and Geary Blvd on weekdays), Van Ness Avenue and Mission Street.
Golden Gate Transit fares will apply, and Clipper customers will need to both tag on and tag off at the end of their trip:
Adult Cash: $4.50 / Adult Clipper: $3.60 / Youth/Senior/Medicare/Disabled: $2.25
Visit the Golden Gate Transit website for bus schedules and maps. Effective April 17 at midnight, face coverings are required when waiting for or riding transit in San Francisco.
Paratransit
Paratransit service continues to operate as normal so that customers can travel for essential needs. Effective April 17 at midnight, face coverings are required when taking a taxi or shuttle. We ask riders to cancel any non-essential trips. If you are a paratransit customer and you need to cancel a previously scheduled SF Access trip, please call 415.285.6945 as soon as possible.
The SF Paratransit Office will operate with limited capacity during regular business hours (Monday – Friday, 9:00 a.m. – 4:45 p.m.). Teller window hours are subject to change.
During this time, reduced staffing will be available to accept cash payments for monthly taxi debit card allotments only.
Essential Trip Card
Recent temporary transit changes are hard for many people with disabilities and older adults for whom walking farther to an alternate bus or paying for other transportation isn't possible. To address this need, the SFMTA is announcing  the Essential Trip Card to help older adults and people with disabilities take and pay for  essential trips in taxis during this crisis.
The Essential Trip Card  will  provide about two to three round trips per month at 20% of the cost of a regular cab ride fare. If you are a 65+ years old or person with a disability, you can apply  for  the Essential Trip Card  by calling 311 and mentioning  the program or visiting the program page to learn more.
Shop-a-Round Helps You Get Around
Shop-a-Round is a convenient, low-cost shuttle or subsidized taxi ride that makes it easier to go grocery shopping. This SFMTA service offers registered seniors and people with disabilities personalized assistance and a ride to/from the grocery store.
A customer does not have to be ADA-paratransit eligible to use the service.
The service takes customers to select supermarkets in San Francisco to shop.
The driver will help carry groceries on and off the shuttle/taxi.
We are currently evaluating how to expand this program to include more people and other types of essential trips.
Essential Worker Ride Home Program
The City's new Essential Worker Ride Home program supports essential employees in San Francisco impacted by public transportation reductions. The program offers a taxi ride home from work to qualifying participants. To be eligible, you must commute to work via a sustainable mode of transportation.
Learn more about eligibility and how to apply on SF Environment's website.
Taxis and Ramp Taxis
Taxi services continue to operate as an essential service. ​Individual taxi companies are following best practices to minimize the risks of transmission. Effective April 17 at midnight, face coverings are required when taking a taxi or shuttle.
To request a taxi you can continue to hail them in the street or at the nearest taxi stand. You can also search the taxi directory or the wheelchair accessible ramp taxi directory for links to apps and contact information. During this time, the Emergency Ride Home program provided by official taxis will continue for individuals who work in San Francisco and are fulfilling essential job functions.
Taxi Drivers: Please note the Taxi Services Window is closed until further notice. Please see our website for more information or call 415.701.4400.
Bikeshare and Scooter Share
With roads that are relatively quiet, commuting by bike or scooter is easier than ever and an enjoyable alternative to getting around the city for essential trips. We are ​sharing best practices with operators that remain in service to minimize the risk of transmission of the virus.
San Francisco bikeshare operators are offering free membership and rides to healthcare and essential workers, along with modified service. For more information, see the operator updates around COVID-19.
For scooter share, Spin is offering support for healthcare and essential workers. Other scooter share operators have paused service at this time. For more information, visit operator sites for updates:
Find a bike route for your commute using SFMTA's bike network map. The San Francisco Bike Coalition can help new bike commuters and offers free webinars on urban cycling.
Carshare
Car sharing services continue to provide short-term rental of vehicles of various sizes for grocery shopping and other essential trips. Effective April 17 at midnight, face coverings are required when riding in a carshare.
Slow Streets
Beginning the week of April 20, some streets will be closed to through vehicle traffic to prioritize walking or biking and to provide more space for social distancing during essential travel. Sometimes it is difficult to maintain social distance, especially outside of grocery stores and other essential services. Because of this, many pedestrians are choosing to walk in the street, exposing themselves to vehicle traffic. The SFMTA is implementing the Slow Streets program to allow roadways to be used more as a shared space for foot, bicycle and wheelchair traffic, taking advantage of low vehicle numbers on some roads.
Streets will not be closed completely and local vehicle access will be allowed (e.g., driveway access for residents).
People walking/running in the street will not have the right-of-way over motor vehicles.
Once installed, Slow Streets corridors will be in effect 24/7.
We plan to install two or three Slow Streets corridors per week. We will continue to monitor the use of Slow Streets to minimize impacts on surrounding streets. Learn more and see a map of the proposed streets.
Parking Enforcement
Effective for the duration of the shelter-in-place order, the SFMTA will not ticket for mechanical street cleaning. Street cleaning tickets issued on March 17 will be waived. However, it is crucial that we still clean our streets to prevent trash buildup and local flooding. Please still move your car for street cleaning if you can.
Enforcement will also be temporarily suspended for the following:
72-hour parking limit and towing
All time limit parking (e.g., 1-hour, 2-hour, etc.)
Residential Permit Parking (RPP) permits
Commuter shuttles
Peak-hour towaway zones
Street cleaning
The SFMTA will prioritize enforcing parking rules that impact health and safety:
Fire hydrant zones
Red and yellow zones; and "No Stopping" or "No Parking" zones
White passenger loading zones, except in front of schools while they are out of session
Blocked driveways, double parking and parking on sidewalks
Parking in bike or transit lanes
Parking Meters: Given the significant shifts in parking demand, the city is implementing a temporary rate change for all parking meters citywide beginning on March 18 through the period of the Public Health Order. Time limits are also being waived on meters citywide.
All meters will be temporarily reduced to their base rates:
$0.50/hour for vehicle parking
$0.10/hour for motorcycle parking
We are maintaining a minimal fee to ensure there continues to be turnover around essential services, such as grocery stores, medical facilities and banks.
Request a Temporary Loading Zone: Essential Businesses
The COVID-19 health crisis is creating a temporary increase in take-out/delivery service for many restaurants and essential businesses. To encourage physical distancing and reduce crowding, the SFMTA is fast-tracking converting some adjacent street parking into temporary loading zones.
If you are an essential business there is no fee, simply complete the form for review and processing. We are working quickly, but due to high demand please be patient.
Parking Garages
To minimize risk to the public and our garage staff, the SFMTA has closed some city-owned parking garages and limited others to monthly pass-holders only. We are prioritizing maintaining access to garages that are near essential services like medical facilities or markets.
The following garages will be closed to the public until further notice:
Golden Gateway Garage (call 415-956-8003 for assistance)
Ellis-O'Farrell Garage (call 415-765-9069 for assistance)
Moscone Center Garage (call 415-765-9069 for assistance)
These garages will be open only to monthly pass holders:
Japan Center Annex Garage (call 415-956-8003 for assistance)
Performing Arts Garage (call 415-956-8003 for assistance)
Kezar Lot (call 415-956-8003 for assistance)
16th and Hoff Garage (call 415-956-8003 for assistance)
Lombard Garage (call 415-956-8003 for assistance)
7th and Harrison Lot (call 415-956-8003 for assistance)
Polk-Bush Garage – monthy pass holders with 24/7 access only (call 415-765-9069 for assistance)
Mission-Bartlett Garage – monthly pass holders with 24/7 access only (call 415-956-8003 for assistance)
The following garages are currently open to the public:
Zuckerberg General Hospital Garage
St. Mary's Square Garage
5th and Mission Garage
Sutter and Stockton Garage
Union Square Garage
Civic Center Garage
North Beach Garage
Vallejo Street Garage
Pierce Garage
Portsmouth Square Garage
Japan Center Garage
Fines and Fees
Until further notice the SFMTA will take the following the actions:
Suspend new late penalties on citations
Extend deadlines for submitting citation protests
Extend citation/boot/tow hearings deadlines – you may request 48-hour tow hearing at 

[email protected]

 or call 415.503.8453
Extend deadlines for active community service programs
Extend deadlines for completing active payment plans
No longer forward additional delinquent citations to the Department of Motor Vehicles or Special Collections
Customer Service Center and Passes/Cards
The Customer Service Center at 11 South Van Ness Avenue is temporarily closed.
Lifeline Passes: No Lifeline passes will be sold until further notice. Lifeline IDs, regardless of the monthly sticker displayed, are valid as proof of payment.
Clipper Cards: Go to the Clipper card website to order youth/senior Clipper cards by mail or for other sales locations
Get more info on SFMTA passes, cards and services
Regional Transit Card Discount ID Office
The Regional Transit Card Discount ID Office is temporarily closed.
You can download a Renewal or Lost Card Application online to receive a new card through the mail. If you have any questions, please call 415.646.2224, Monday through Friday between 9:00 a.m. and 5:00 p.m.
Get info on RTC replacement or renewal
Special Event Street Closure Permits
All special events are cancelled through April 7, 2020.
Lost and Found
Muni Lost and Found will be processed on a reduced schedule. Items will arrive at the lost and found office two to three business days from the time they are located, and it may take up to seven business days for you to be contacted.
To minimize exposure, we will only return critical items such as phones, medication, wallets, keys, travel documents, identification documents, etc. during the shelter-in-place. All other items may be picked up when the order is lifted and business resumes as usual.
Safety Measures We Are Taking
The safety of SFMTA employees and customers is our top priority. There remains no specific risk to transit or paratransit riders regarding Coronavirus, however, we are taking extra precautions to limit exposure.
Muni car cleaners, station custodians, and paratransit personnel are cleaning vehicles and high-touch surfaces regularly. Daily vehicle cleaning includes safe, strong disinfectants on high-touch surfaces at the end of service. High-touch surfaces such as railings in Muni subway stations are cleaned approximately every four hours.
In addition to the extra cleaning protocols, we are requiring operators to always use their security partitions. Operators have been given guidance that they can skip stops if their vehicles become too crowded to maintain social distancing between passengers.
You can help prevent the spread of coronavirus. The San Francisco Department of Public Health and the Centers for Disease Control and Prevention (CDC) recommend these simple daily precautions to help prevent the spread of coronavirus:
Wash your hands often with soap and water for at least 20 seconds.
Avoid touching your eyes, nose and mouth with unwashed hands.
Cover your cough or sneeze with a tissue, then throw the tissue in the trash.
Stay home if you are sick.
Those who are 60 and older, or with a health condition or a weakened immune system should limit outings and avoid community events.
City Business Parking Permits
Expiration date on current permits has been extended from 6/30/20 to 9/1/20.
Get Updates
For travel and transit updates, please visit our email and text alert subscription page. You can also follow us on Twitter and Facebook for the latest Muni and COVID-19 updates.
For city and local Department of Emergency Management updates about COVID-19, text "COVID19SF" to 888-777.
Get Your Own Muni Inspired Virtual Backgrounds
Whether you're telecommuting, teaching or learning online, or staying home and riding Muni for essential trips only – do it in style with these Muni virtual backgrounds. Download, save and use them for any of your preferred video chatting platforms.
Additional Resources:
Websites
Citywide COVID website with FAQs
San Francisco Department of Public Health (sfdph.org)
San Francisco 72 Hours
San Francisco Department of Emergency Management
CA Department of Public Health
Center for Disease Control and Prevention
Twitter
@SF_DPH
@SF_emergency
@CAPublicHealth
@CDCgov
Facebook
San Francisco Department of Emergency Management
CA Public Health
Center for Disease Control and Prevention
Video
City Officials announce new Public Health Order March 16
Watch "Quick Facts on Coronavirus" and "Hand Washing" videos
Recent Posts
2021 is coming to a close and we wanted [. . .]
We urge you to support these local SOMA West [. . .]
United Playaz hosted its annual gun buyback event at space [. . .]